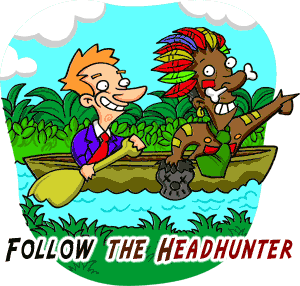 Being in both the lucrative financial and legal sectors, I receive calls from headhunters from time to time, either offering me roles or asking for references to suitable persons.
Very often, I use them as a check of whether I am being remunerated fairly. I also regularly get their feedback on trends in the market. Or I get them to advertise on the jobs portal of an association that I sit on!
Something that I am surprised about is how headhunters are often shocked by a question I ask them: "Can you please send me either a profile of yours, a current copy of your resume or tell me more about yourself?"
Most headhunters often accept this request after a pregnant pause. Those that avoid it are most likely to receive a negative expression of interest from me.
I do this because it is very important to have credible and competent headhunters represent you.
I am also especially wary of "fly-by-night" headhunters. There tend to more of them when the economy is doing well!
Consciously choose to work with not more than three headhunters. Keep in touch with those you prefer from time to time, and send them an updated version of your resume on a quarterly or half-yearly basis.
It is also important to limit the circulation of your resumes, especially in a limited market like Singapore where word tends to get around.
I find it useful to have good and bad versions of my resumes.
I give the bad version of my resume to headhunters, who I do not wish to represent me.
In such a scenario, the headhunter usually comes back to say that there is no job fit between my experience and the role, or never contacts me again!
Happiness,
Dharmendra Yadav